Mineral Pools are Ideal for Hot Climates
All pools are sanitized with chlorine – even saltwater pools. But chlorine isn't the only way to keep your pool clear and fresh.
ClearBlue infuses the water with minerals that act as a natural sanitizer. This allows you to reduce chlorine and other chemicals by up to 80%.
The hotter it gets, the harder it works.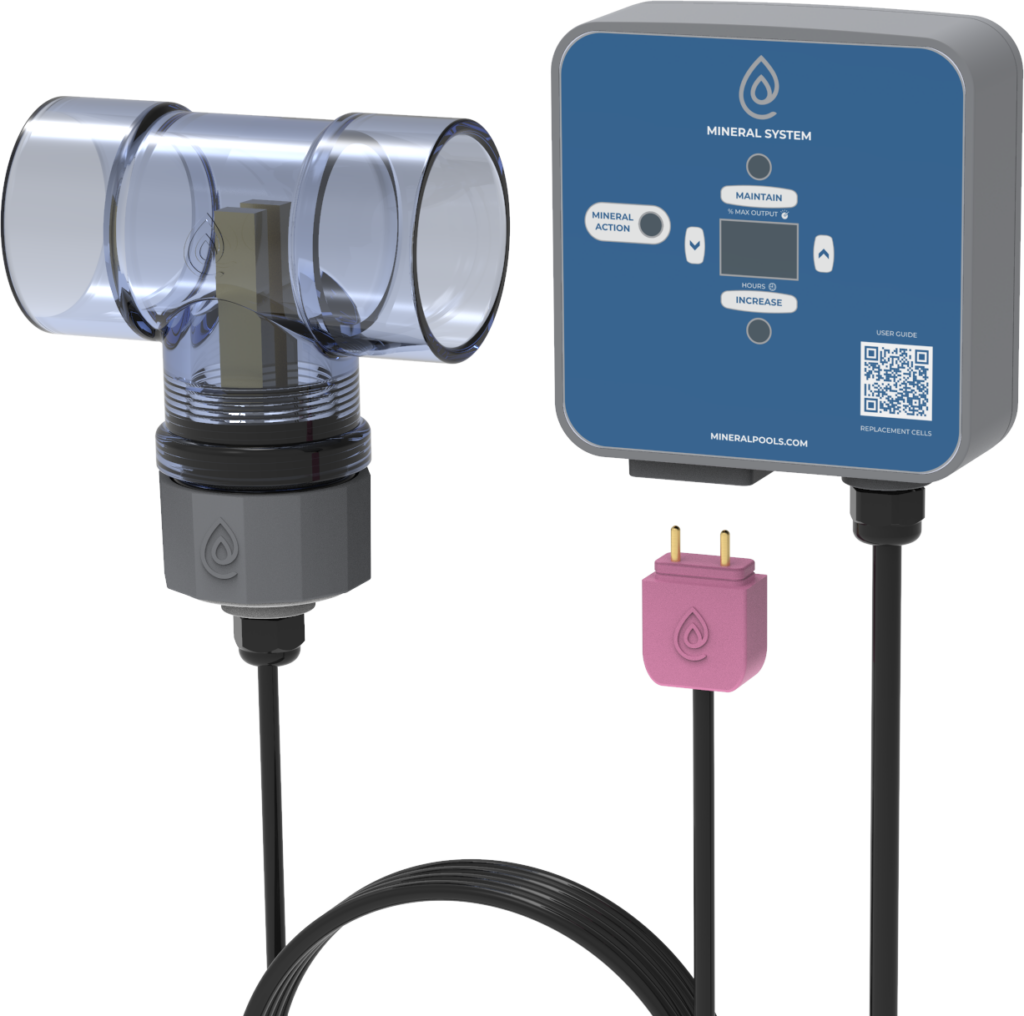 Crystal clear, fresh smelling water with less chemicals
With the ClearBlue system, you only need a splash of chlorine. If you have a saltwater pool, you can turn down the chlorinator and get more life from your salt cell. You won't smell chemicals when you're swimming and your skin will feel fresh after use.
Algae loves hot, humid weather and that's why pools in hot climates are so hard to manage. You've probably seen your pool guy dumping gallons of chlorine and other chemicals to treat it, even if you have a salt system! Upgrading to a mineral pool means crystal clear water all year, without constant chemical treatments.
---
What our customers are saying
Join thousands of customers who have been enjoying mineral pools since 2005.
Think Minerals™ for the best pool experience
Nothing is more effective at controlling algae than natural minerals.
Precise
The ClearBlue controller lets you set the perfect output level for your pool. It comes with a test to verify the levels.
Natural
Minerals act as a natural sanitizer and algaecide so you can safely reduce the chlorine or bromine levels.
Low power
ClearBlue releases minerals using a tiny electrical charge. You won't even notice a change to your power bill.
Easy to install
Installs in most pools in 30 minutes. Cells can be changed by hand in minutes with no tools or tape.
How it works
You can convert your pool to a mineral pool with a few easy steps
1. Purchase the system
The ClearBlue system is available from Amazon and the Think Minerals web store. Use coupon MINERAL25 for $25 off the system on the web store.
3. Balance the water
Balance the pH, alkalinity and calcium to standard specs from a water test.
4. Set and forget
Set the output settings on the ClearBlue controller. In a few days, your water will be infused with minerals and your pool will reach a clarity and softness that you won't believe.
---